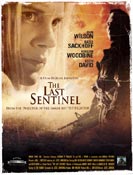 Click to view enlarged poster



The Last Sentinel

Set for release in early 2006
Starring Don Wilson

British Director Jesse Johnson reinvents kickboxing champion Don Wilson in this action-packed thriller and gritty sci-fi movie that blends martial arts with Black Hawk Down-style battle sequences. Depicting the "reality of martial arts and ballistic combat while wrapped in a gritty veneer, with shades of glorious 80s excess," is how one reviewer summed up this heart-throbbing film that is cast with A-list actors as costars. Reminiscent of the hyper-realistic action that Johnson created in the acclaimed Pit Fighter, The Last Sentinel showcases world champion Wilson without his "The Dragon" title.