Newly Released Films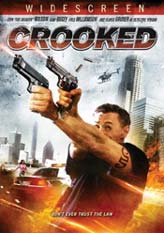 Click to view enlarged poster

Crooked

Starring Gary Busey,Don "The Dragon" Wilson and Olivier Gruner, Crooked will be released by Lionsgate Feb. 2007.

International distributors in the UK, Far East, South Africa, Indonesia, Russia, Hong Kong and 80 other countries gave a "thumbs up" response to the release of WFI's first film, Crooked. Oscar nominee Gary Busey was the perfect choice to team up with Don "The Dragon" Wilson, considered by experts to be the greatest kick boxer in the world. The film keeps viewers on the edge of their seats as two police detectives try to protect a beautiful call girl from mob hit men and a crooked cop.